---
General RV
Pages
---
A checklist is an important RVing tool. Here's a really good, comprehensive one!
I know because I did it and recommend it!
Where did my Existential GPS lead me now?
Preamble (before I really get to ambling...)
I am a fulltime RVer and consider myself extremely blessed to be able to live this lifestyle. I've experienced a lot since starting in 2001 and want to share what I've learned along the way. So much of it came from other RVers, who are some of the most friendly people on earth, always so willing to help and share. I hope to continue this tradition and "pay it forward" by being of service to other traveling souls. We most certainly are a special breed!
Want to be notified when this site is updated?
I'd really appreciate it if you'd sign up to follow my blog. In the left column, I have subscription options including RSS feed or getting notifications by email whenever this site or blog is updated. (Just in case you wonder, no way would I ever share your addresses!) I truly appreciate your feedback and support!
What inspired this site:
I've kept an online journal called "Inspiration's Journey" (www.MaliasRV.com) since I took off as a way to share what I was seeing and feeling with my family and friends. My first article, "Alaska Alone," was published in the Good Sam magazine, "Highways" in 2005. The response to this and to my journal inspired me to begin work on this site to provide info to RVers with our specific needs in mind. After all, there's a lot of info we who drive something 36' long, towing a car behind us, need that a little Toyota doesn't!
My goal for the site:
I will provide my honest reviews of the campgrounds I visit, including pictures not shown on their own website. Beyond the dry stats, I will also give my impression of the feel of the place - how friendly are the people - the kind of things I would like to know before deciding on where I want to live, even if it's only for a couple of days.
Besides camping choices, I'll let you know about some of the local activities and businesses. And while I will partially support this site by bartering my efforts for campsites and selling ads to places I have visited and endorse, no one gets to approve what I say in my "2 Cents" section. I've had businesses want to change what I highlighted in my opinion, and that is one area in which I will never compromise. I want whoever reads this site to know that I mean what I say and that my reviews cannot be bought at any price. What I write about and what I say will always be my choice alone.
So as I begin this venture, I hope you will become my traveling partners. I will always welcome your feedback and want to hear of anything else you would like to see here. The site is most definitely a work in progress and will be expanding as I continue my journey.
Site Layout:
Besides the General RV Pages with its sub-categories, it's basically organized by state. Within each state are the locations and attractions seen there with links to them on the left hand side of the page. Google seems to have indexed the pages within the site pretty well, so if you're looking for something in particular, use the Search Malia's Miles box located on every page.
Your comments and feedback matter to me. The only way I know if this site is of any value to you is if you tell me about it. I love hearing from you and my mailbox is always open. Malia@MaliasMiles.com
---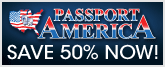 (It took me a while, but after seeing so many CGs for years where I could have used this, I finally figured out it was worth it!)